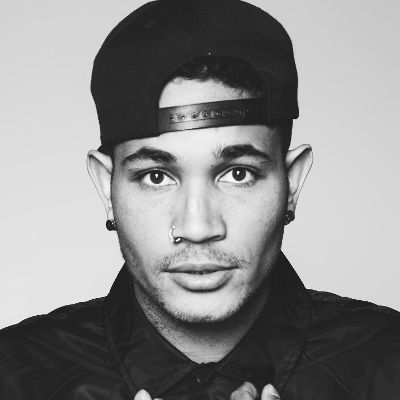 Bryce Vine
A hip-hop artist whose cool, thoughtful, and witty style belies his West Coast address, Bryce Vine is a rapper and singer who broke through in 2014 with his single "Sour Patch Kids." Bryce Vine was born Bryce Ross-Johnson in New York City on June 16, 1988. His mother, Tracey Ross, was an actress and his father, Brad Johnson, was a restaurateur. When he was ten years old, Bryce moved with his mother to Los Angeles, where she pursued her career and looked after her son. In 1999, Tracey landed a leading role on the daytime drama Passions, and her character appeared on the show through 2008. Her success allowed the family to settle in the L.A. suburb of Westlake Village, and watching his mother at work inspired young Bryce to consider a career in the arts. His father shared a love of vintage R&B with his son, and when Bryce was 13, his parents gave him a guitar, which he taught himself to play. In addition to R&B of the '90s, Bryce was also strongly influenced by pop-punk and alternative rock, especially Green Day and Third Eye Blind.

With time, Bryce honed his talents as a vocalist and writer, and he made his recording debut in 2010 with a guest appearance on G-Eazy's track "Coming Home." At the suggestion of family and friends, in 2011 he auditioned for The Glee Project, a reality television series intended to recruit talent for the then-popular TV show Glee. While Bryce was accepted for The Glee Project's first season, he was eliminated in the first episode; he later said he was happy with the outcome, telling a reporter, "That was not the right place for me." Bryce continued to focus on his music, attending the prestigious Berklee College of Music. While attending Berklee, Bryce got to know Nolan Lambroza, who was making a name for himself as a producer, working with the likes of Lil Wayne, Pitbull, and Justin Bieber. Lambroza was impressed with Bryce's talents, and he signed him to his independent record label, Kiva House Lambroza.

In 2014, Bryce released his debut EP, a six-song set called Lazy Fair (the title was a play on the French phrase "laissez-faire," which was also the name of a boat owned by his parents). The EP spawned two online hits, "Sour Patch Kids" and "Guilty Pleasure," which respectively racked up over 11 million and five million plays on streaming services. Bryce poked fun at the clichés of hardcore rap with 2015's "The Thug Song," a track built around a Green Day sample that prevented it from receiving a commercial release. Another EP, Night Circus, was released in 2016, and in 2017 Bryce dropped a single, "Drew Barrymore," in anticipation of his third EP, Carnival.