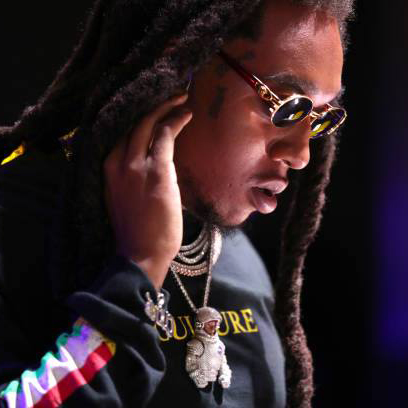 Takeoff
Born Kirshnik Khari Ball on June 18, 1994 in Lawrenceville, Georgia, Takeoff was the youngest member of psychedelic hip-hop trio Migos, whose songs "Versace" and "Bad and Boujee" became major streaming hits, and whose 2017 sophomore album, Culture, topped the pop charts in both the U.S. and Canada.

Takeoff started Migos in 2009 with Quavo and Offset, both of whom he was related to and had grown up with, in a bid to escape the ghetto cycle of poverty and crime. Their breakthrough single, "Versace," came out in 2013; the album Yung Rich Nation followed in 2015, and Culture two years later. Takeoff's non-appearance on the album's 2016 lead single "Bad and Boujee" caused a minor internet controversy; he brushed it off, claiming he was simply unavailable for the recording session.

In May of 2017, he released his first solo track, "Intruder." In July he was in the news again after being removed from an airplane, allegedly for refusing to obey the instructions of a steward regarding his baggage. Takeoff occasionally appeared solo as a featured performer on tracks by other artists, including Jose Guapo, Chill Will, and, most notably, Calvin Harris, on the song "Holiday," from the Scottish producer's 2017 album Funk Wav Bounces, Vol. 1. Migos' third album, Culture 2, was scheduled to be released in October 2017.