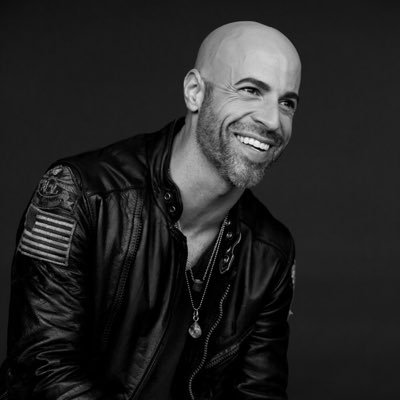 Daughtry
When the time arrived to make his fourth full-length studio album, Baptized, Chris Daughtry followed his instincts.

Motivated by intensely creative writing sessions with the likes of Martin Johnson [Boys Like Girls], Sam Hollander [Gym Class Heroes, Coheed and Cambria] and Claude Kelly [Bruno Mars, Whitney Houston], the singer, songwriter and musician quickly discovered the direction of his latest body of work.

"I needed a change," he admits. "I started hearing these new sounds over my voice, and it was so inspiring. There wasn't just one style either. It was a completely different vibe all around. I really wanted to pursue that to the fullest. This is probably one of the most inspiring records I've ever done."

In early 2013, Chris began working on what would eventually become Baptized. Early on, he made a conscious decision to approach the album from a different angle. It would've been too easy for him to simply repeat himself considering he and the band have been on quite a hot streak since their 2006 self-titled became the fastest-selling rock debut in Soundscan history. 2009's Leave This Town gave them their second consecutive No. 1 on the Billboard Top 200, while Break The Spell reached gold status in merely four weeks of release in 2011. Throughout, they achieved four No. 1 smashes at radio as well as four Grammy Award nominations and four American Music Awards wins. Meanwhile, sales exceeded 7.5 million albums and 17 million singles. Nevertheless, as an artist/band, they chose to evolve for both themselves and their fans.

In between a hectic touring schedule, Chris would fly to Los Angeles for in-studio sessions with Johnson and Hollander or Kelly.

"As fans of the band, they would do things that I normally wouldn't do, and that's why it was so exciting. I was much more open to explore a new style of writing with this album. Whether it was on keyboard, piano, or even banjo in some cases, the soundscape really felt alive. We'd write a song together and cut the vocals right then and there to capture that energy. It happened so quickly. We didn't need to overthink anything. The magic was there."

It's easy to hear, feel, and even see that magic on the first single "Waiting for Superman." Electronics glimmer along with a soft acoustic guitar strum and resounding piano as a cinematic tale unfolds in orchestral pop fashion. It instantly takes flight with one of the vocalist's most powerful hooks yet and an inspiring story.

"It was never about a superhero per se," he reveals. "It's about waiting for that someone in your life to step up and be what you need in that moment as a 'rock' or 'strength.' I've heard it so many times. I chose one of the biggest pop culture archetypes out there because it can mean many different things. I love the image of a girl waiting for someone to save her. Personally, it stems from my own experiences with my teenage daughter and wife. They were my muses."

The track "Battleships," sails into new territory. An immersive beat bounces along with the warm production as he delivers an irresistible anthem meant for arenas. In order to test this fresh flavor, he ran it by his toughest critics.

He smiles, "My parents love our music, but they're mainly into country. After I played them 'Battleships,' I expected my dad to say, 'Well, that's different!' Instead, he looked at me and said, 'Man, that's a hit!'

The lyrics find him veering down an uncharted lane as well. "It's not a breakup song—which we've been the ambassadors for over the past six years," Daughtry chuckles. "It's about butting heads with the one you love. You don't want to fight, but it happens. You're both going to stand your ground, but you're really fighting for each other."

Perhaps the most shining example of Chris' evolution is the rollicking and raucous "Long Live Rock & Roll". Acoustic guitar and banjo charge forward at full steam as he name checks everyone from Elton John and Billy Joel to Mötley Crüe and Guns 'N Roses, even lamenting "Van Hagar" in the process.

"It was so far out of my normal comfort zone," he says. "Everything has always been so serious in the past, but rock 'n' roll is meant to be fun. I wanted to cut loose and have a good time. We went places I'd never been musically."

At the same time, the kinetic "I'll Fight" brandishes a youthful vibrancy, while the title track, "Baptized," builds from a Western-style dobro hum into a bombastic refrain. In many ways, the title encapsulates Chris' ethos completely.

"I always wanted to call the album Baptized, because it felt like a new chapter," he declares. "It's a bold statement."

He's ready to proclaim that statement in front of packed venues around the world alongside longtime bandmates Josh Paul [bass], Brian Craddock [guitar], Josh Steely [guitar], Robin Diaz [drums] and new addition Elvio Fernandes [keyboards]. Outside of music, he continues to give back to various charities. He even holds an ambassadorship with DC Comics' We Can Be Heroes campaign, fighting hunger in underdeveloped countries.

At the end of the day, Baptized certainly signals a rebirth for Chris and the band. "I want fans to keep an open mind about it," he concludes. "The songs are very much what I do lyrically and melodically. I've always been a sucker for a great melody. That's what songwriting is all about. Can people relate to this? Is it real? Is it honest? That's what everyone should take away. It's real and authentic. This is where I am right now."