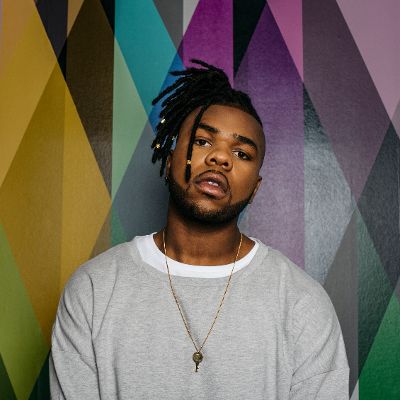 Mnek
Born to Nigerian parents in the South London district of Lewisham, Uzoechi Osisioma Emenike -- better known as MNEK -- had been involved in the creation of two U.K. number one singles before he reached the age of 19. Although he started using the MNEK moniker in 2008, he'd already been creating '80s and '90s soul-inspired pop for a good four years. Recognition of his songwriting talent came in the form of a deal with EMI Publishing in 2009, but it was another two years before his debut solo single, "If Truth Be Told," was issued on Moshi Moshi Records. During this period, Brian Higgins of the Xenomania songwriting and production team enlisted his help on the Saturdays' track "All Fired Up." Not only did the single hit the Top Ten in the U.K., but a MNEK-penned lyric from the track went on to inspire the title of the British-Irish group's third studio album, On Your Radar.

Summer 2012 brought further success when MNEK co-wrote and produced "Home Run," the debut single by Manchester-born, eighth-season X Factor semifinalist Misha B. Little Mix, the winners of that same series, also benefited from his programming work on their July 2012 U.K. number one, "Wings." Early the following year, MNEK co-wrote Duke Dumont's house-inspired U.K. number one "Need U (100%)," and was also involved in the composition of four tracks on Home, the debut album from London-based electronic act Rudimental.

In 2014, he was featured on the British Top Ten hit "Ready for Your Love" by Gorgon City, while his own "Every Little Word" and "Wrote a Song About You" entered the British singles chart as well. Those two songs, as well as "The Rhythm" -- his first solo U.K. Top 40 hit -- formed the basis of the 2015 EP Small Talk. A July single featuring vocals by Swedish vocalist Zara Larsson, "Never Forget You," reached the Top Ten across Europe, including number one in Larsson's native country and on the U.S. Billboard Dance/Electronic chart. He followed with the singles "At Night (I Think About You)" and "Don't Stop Me Now" in 2016, later joining with Riton and House Gospel Choir on 2017's "Deeper." In early 2018, MNEK issued the single "Tongue."