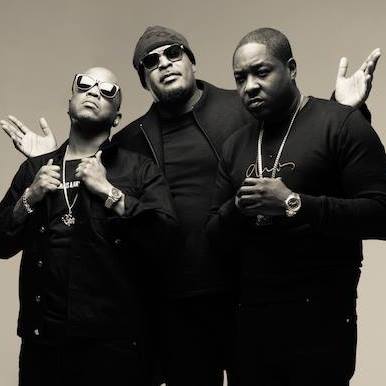 The Lox
The LOX -- an acronym for "Living Off Experience" -- are a Yonkers, New York-based rap trio who worked their way up through the Bad Boy training camp, writing and rapping on hits by the likes of Puff Daddy, the Notorious B.I.G., Mary J. Blige, and Mariah Carey before releasing their debut album in early 1998. Sheek (Shawn Jacobs), Jadakiss (Jayson Phillips), and Styles (David Styles) began rapping together in their childhood. By the time they reached their late teens, they had settled on the LOX name (from their original moniker "the Warlocks"). Eventually, they met Mary J. Blige. Impressed by their demo tape, Blige forwarded the tape to Sean "Puffy" Combs, who hired the trio as writers. Between 1996 and 1997, the group wrote and performed on a number of Combs productions, including his own "It's All About the Benjamins" and "I Got the Power," Mase's "24 Hrs. to Live," Mariah Carey's "Honey," the Notorious B.I.G.'s "Last Day," Mary J. Blige's "Can't Get You Off My Mind," and Zhané's "Saturday Night."

The LOX received an unexpected boost in the summer of 1997 when their tribute to the late Biggie Smalls, "We'll Always Love Big Poppa," was picked as the B-side of Puff Daddy's international number one hit "I'll Be Missing You." The single was the biggest hit of 1997, setting the stage for the January 1998 release of the LOX's debut, Money, Power & Respect, which went as high as number three on the pop album chart. After a switch to the Ruff Ryders label camp, We Are the Streets followed in early 2000. Legal problems with Bad Boy kept the group from recording as a unit for years to come, but in 2007 a set of early recordings was released as Before the L.O.X. New material landed in 2013 with the surprise EP The Trinity, which was followed in 2014 by its sequel, The Trinity: 2nd Sermon.

In late 2016, almost two decades after the release of their sophomore effort, the LOX unveiled their third official LP, Filthy America...It's Beautiful, on D-Block/Roc Nation.